Refurbished Shopping & Grocery Carts
Rigorous consumer use, time and harsh elements can take their toll on carts. As the leaders in shopping cart technology, Unarco has the experience and resources to bring worn and weathered carts back to life, giving them the look and performance of new at a lower cost. Contact us today to learn more about our refurbished shopping cart solutions.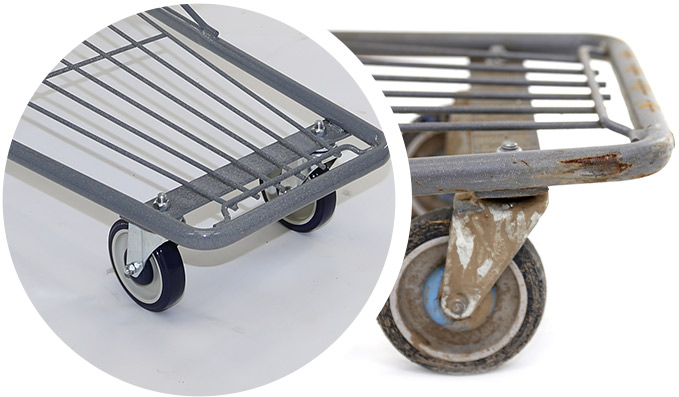 Your Cart Fleet, Like New Again
Every major retailer struggles with the task of maintaining a large and often varied cart fleet. Cart remanufacturing can actually extend the life of your fleet at a fraction of the cost of full cart replacement – without compromising on quality or performance.
Steel carts can be remanufactured up to 4 times, increasing their lifespan by up to 5 years each time they're remanufactured! Your owned cart fleet is your biggest hedge against steel market volatility, and remanufacturing is a great way to maximize your investment for long-term fleet savings.
Remanufactured Unarco carts are 95% recycled.
Many parts are reused while the ones that cannot are recycled.
Remanufactured Shopping Carts
A Sustainable Solution
Today, more and more consumers are giving their support to brands focused on sustainability. Choosing to remanufacture rather than replace your fleet is an ecological option that conserves natural resources and makes a statement of your commitment to sustainability. Get in touch with us to discuss the remanufactured shopping cart process.
Unarco's industry-leading approach to cart remanufacturing goes far beyond temporary cosmetic changes. Our 6-step, end-to-end refinishing process produces a like-new cart – including a 1-year warranty for all cart types, even those from other manufacturers.
✔ Inspect & Tear Down
✔ Strip to Bare Steel
✔ Remove Rust Damage
✔ Repair Structure
✔ Apply New Powercoat
✔ Assemble Like-New Cart
Reduce your environmental impact
Cart remanufacturing also helps you drive corporate sustainability efforts in a meaningful way. These are just some of the environmental benefits of choosing remanufactured over new carts.
✔ Saves Over 40 Pounds of Coal
✔ Eliminates 145 Pounds of Greenhouse Gasses
✔ Average 58 Pounds of Steel Recycled per Cart
✔ Saves 62 KW Hours of Electricity
✔ Saves 73 Gallons of Water
✔ Saves 261 Pounds of Taconite